Crepe is a weaving or fabric treatment method that results in a unique rippling, three-dimensional texture. Garments and other textiles made with crepe fabric are generally delicate and used for ceremonial occasions.
Common Applications
Blouses, Scarves, Lingerie, Dresses, Lining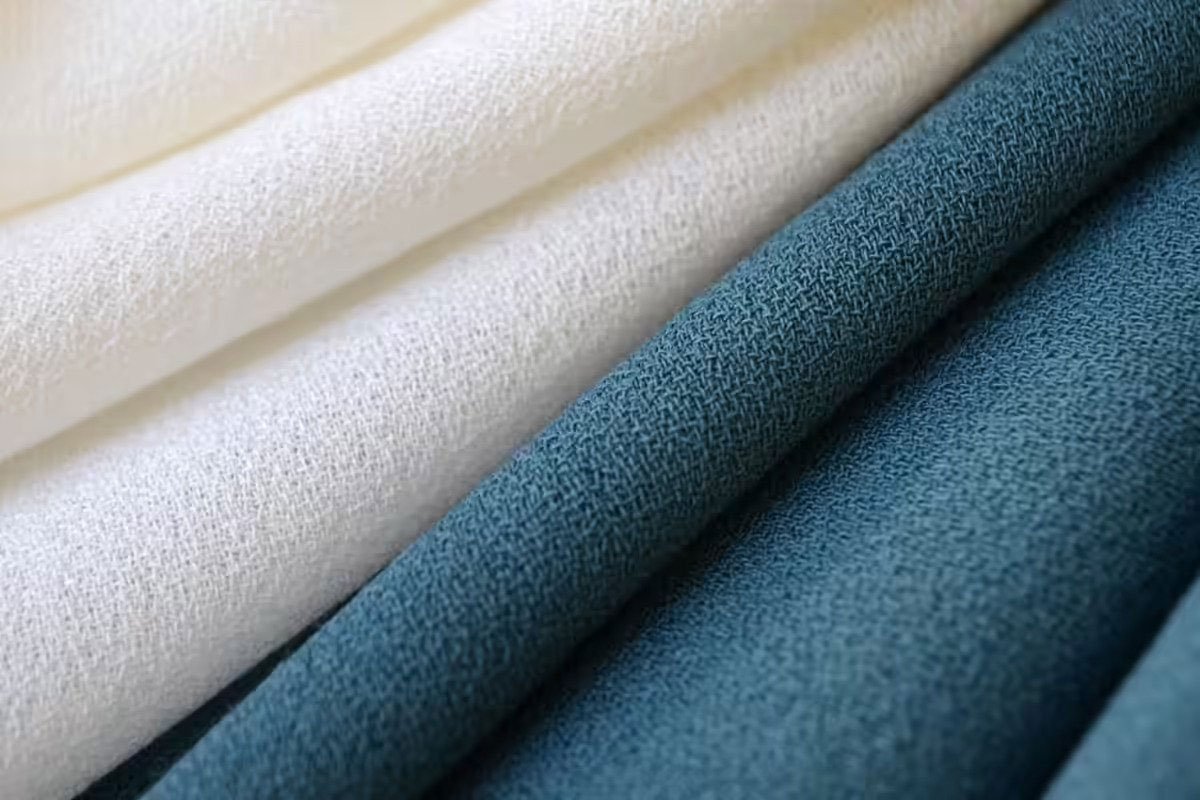 Description
It's how the French call it, the "Crepe from China".
Crepe de Chine can be made from different fabrics, but the most common kind is processed using silk. Other varieties are manufactured using other materials with similar feels to silk, including cotton and synthetic items, such as acetate, rayon, nylon, or polyester.
Since it is lightweight, the words "fluid drape" and "silky smooth feel" are commonly used when answering the question about what is Crepe de Chine. This is why you will likely find scarves and shawls made from Crepe de Chine as well as airy blouses and bridal dresses.

Background
Story
Crepe fabric has no clear origin point in the history of human civilization. Since the concept behind crepe is so simple, many cultures have adopted forms of this fabric at one stage of development or another. For instance, Crepe is still used by Orthodox Greek women for mourning, and various cultures of the Indian subcontinent incorporate crepe into their traditional garments.
In the West, crepe gained popularity outside of mourning attire during the 19th century. Very rapidly, a company called Courtaulds almost completely dominated the crepe manufacturing market, and over the years, this iconic firm experimented with a variety of different crepe weaves and materials.
Manufacturing
A wide variety of different processes may be used to make the base textiles used in crepe fabric. The only distinctive feature of this type of textile is its weave, so whether it's with natural or synthetic fibers, designers and textile manufacturers have found a myriad of different ways to create an effect that can be agreed-upon as being "crepe."
Crepe yarn is made with a process called hard twisting, which involves twisting the textile fibers used in yarn manufacture much tighter than usual. Additionally, alternating "S" and "Z" twists are used to give the yarn its distinctive bouncy texture. Also known as right-hand and left-hand twists, these alternating spinning techniques result in crepe yarn no matter which fabric material is used.
Once the crepe yarn has been manufactured, it may be dyed, treated, and spun into garments. In some cases, the production of finished crepe products may occur at the same facility where the yarn is spun, but usually, the work is split between two separate firms.

Lightweight
Durable, remains strong when wet
Breathable and wearable all year round
Absorbs and releases moisture very quickly
 It doesn't feel heavy on the skin
This is great for wicking moisture
What is crepe fabric used for?
Generally, crepe fabric is used to create stunning eveningwear (suits or gowns), and high-fashion clothing like blouses and pants. But it can also be used to create unique looking curtains, pillows, scarves and shawls. Crepe is a very versatile fabric!
What kind of fabric is crepe?
Crepe is a relatively old kind of fabric, which means that there's been a lot of time for it to develop. The term 'crepe' doesn't denote any type of fiber, but rather a way of making a fabric. So, is crepe a natural fabric? Sometimes. Traditionally, crepe is made from silk, but it can also be made from other materials like wool, cotton, rayon, and polyester.
So then, what is crepe material? The key to crepe lies in the wrinkled, bumpy look of the fabric. This look can be achieved in different ways, but part of the process is usually a very tight twisting of the fibers before making them into cloth.
Common kinds of crepe fabric
Crepe de Chine: Crepe de Chine fabric originated in China, as the name suggests, and is a very lightweight type of crepe usually made from silk. An important difference between Crepe de Chine and other types of crepe is that Crepe de Chine isn't puckered, but feels smooth on the skin. This type of crepe can also be made from polyester for a similar look and feel, but a more affordable price tag.
Crepe georgette: This is a soft, smooth crepe silk fabric, which can also be made from silk-like synthetics like rayon. Crepe georgette tends to be more elastic than other types of crepe and drapes nicely. This crepe is usually what gowns are made out of.
Polyester crepe: Any crepe fabric made from polyester is a polyester crepe. This crepe tends to be lightweight, thin, and is used when making dresses, blouses, and pants.
Scuba crepe: Scuba crepe is a type of polyester crepe that contains a small percentage of spandex. This makes it a fabric with the characteristic crepe look and feel on the surface, while also being smooth and elastic on the backside.
Plissé crepe: This is a crepe that has been chemically treated to create a folded pleat look. Plissé crepe is usually made from cotton.
Crepe back satin: Like scuba crepe, crepe back satin is a fabric with a satin weave, where one side looks and feels like satin, and the other has a crepe look and feel to it. This fabric can be made from any kind of fiber.
Crepe charmeuse: Crepe charmeuse is usually a with a satin weave, but with yarns that were twisted using the crepe method. This makes crepe charmeuse a crepe fabric while still smooth and reflective like satin.
If you have a great idea, reach out to me. Whether it is a small or big project, I will listen first and get back to you with a plan.